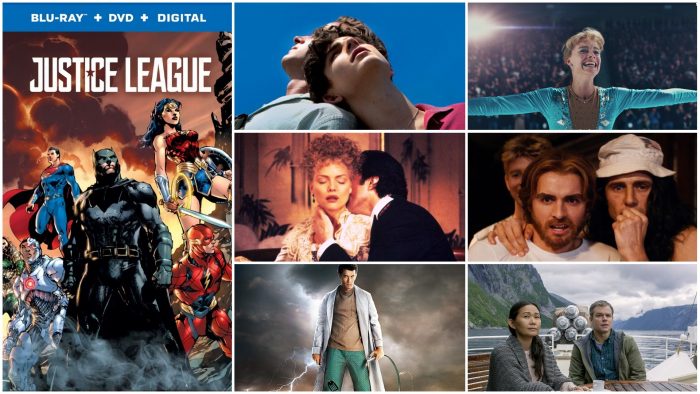 (Welcome to Not Dead Yet, a feature dedicated to new Blu-ray releases and what special features you should be excited about. Because yes, some of us still like to own physical copies of our movies.)
Welcome back to another Blu-ray round-up. There's something for everyone here! The comic-book bombast of Justice League; the romanticism of Call Me By Your Name; a Martin Scorsese masterpiece in the form of The Age of Innocence; indie comedy courtesy of The Disaster Artist and I, Tonya; the '80s charm of Joe Dante's The 'Burbs; and, uh, Downsizing!
Here are the new Blu-ray releases and their special features you should check out this week, and beyond.
Justice League
Justice League tried very hard to right the capsized ship that is the DCEU. It didn't succeed. At times, though, the film is almost interesting enough to work. The opening scene, featuring an aw-shucks Superman conversing with some kids, is the first time the DCEU got the Man of Steel right in over three films. And Ezra Miller's comedic take on the Flash is a hoot.
More often than not, however, Justice League succumbs to behind-the-scenes issues. Zack Snyder left the project and was replaced by Joss Whedon. While Whedon was hand-picked by Snyder, the two filmmakers are nothing alike, and their styles clash constantly. The end result is a schizophrenic tale that jumps from being comedic to dreary and then back again. Worse than that, the big action set pieces – which should be the main draw for a film like this – are lackluster and un-exciting.
The premise has Batman (Ben Affleck) and Wonder Woman (Gal Gadot) gathering up a team of heroes to do battle with Steppenwolf, perhaps the worst comic book bad guy in movie history. Along the way, the team raises Henry Cavill's Superman from the dead. A film in which the Flash digs up a grave and cracks a Pet Sematary joke should be at least entertaining, but Justice League falters.
Warner Bros. and their DC films can still recover. Patty Jenkins' Wonder Woman 2 will hopefully right the ship, and James Wan's Aquaman might turn out well. Also, now that this big team-up is out of the way, perhaps DC can scale things back a bit and give the characters their own smaller, more compelling adventures.
Special Features To Note:
Much has been made of the fact that Justice League has a wealth of deleted scenes. Trailers for the film feature a slew of shots that never made it into the final film. And then there's the persistent rumor of the infamous "Snyder Cut" (which probably doesn't even exist). If you were hoping to get a look at these deleted scenes on the Justice League Blu-ray, I regret to inform you that is not the case. There are two deleted scenes included here. One has already been released online: Superman, freshly risen from the grave, wanders around the crashed Kryptonian ship. There, he finds both the famous "black suit" (that he never puts on in the theatrical cut), and also his classic costume. The second deleted scene comes immediately after this, and was seen in one of the trailers for the film. In it, Superman shows up at the Batcave and has a quick conversation with Jeremy Irons' Alfred. And that's it!
Perhaps one day, a deluxe Blu-ray will be released with the deleted scenes. For now, though, we just have these two snippets.
Beyond the deleted scenes, there are several featurettes and mini-documentaries that go behind-the-scenes of the film. "Road to Justice" provides a background on the Justice League from the comics, starting out with the Justice Society first in the 1940s, moving forward through time, and going into Crisis on Infinite Earths.
There are individual featurettes that look at specific action scenes, which reveal just how much green screen was used to create the movie. Spoiler: a lot. Almost everything was greenscreened in this movie, to the point of silliness.
The best feature of the bunch features costume designer Michael Wilkinson discussing "The Look of the League." Here, we get a quick shot of Superman's infamous black suit (see screenshot below).
We also learn that Zack Snyder wanted Aquaman's costume to look "ancient and broken down", and that the Flash's costume was designed to be like a "sports shoe." The more you know!
Special Features Include:
Road to Justice

Journey alongside DC comic creators as they explore over fifty years of the Justice League, from comic books to animated adventures to their cinematic debut.
Heart of Justice

Discover the heart, soul and mind of the Justice League, as the cast and filmmakers share their admiration for DC's iconic Trinity: Superman, Wonder Woman and Batman.
Technology of the Justice League

From Batman's arsenal to Cyborg's alien tech, interface with the Justice League database to learn their most advanced secrets.

Justice League: The New Heroes

Join Ray Fisher on a personal tour to meet the newest members of the Justice League: Aquaman, the Flash and Cyborg.

The Return of Superman

Bonus scenes not seen in theaters

Steppenwolf the Conqueror

Join actor Ciarán Hinds and the filmmakers as they reveal the story behind mankind's ancient enemy and the Justice League's greatest challenge.

Scene Studies: Revisiting the Amazons

Take a closer look at the filmmaking process behind Justice League's most visually exciting and action-packed sequences

Scene Studies: Wonder Woman's Rescue

Take a closer look at the filmmaking process behind Justice League's most visually exciting and action-packed sequences

Scene Studies: Heroes Park

Take a closer look at the filmmaking process behind Justice League's most visually exciting and action-packed sequences

Scene Studies: The Tunnel Battle

Take a closer look at the filmmaking process behind Justice League's most visually exciting and action-packed sequences

Suit Up: The Look of the League

Costume Designer Michael Wilkinson explores the innovation and artistry that goes into creating the costumes of DC's iconic heroes.
The Age of Innocence
On the surface, Martin Scorsese's The Age of Innocence seems like an outlier. A gorgeous costume drama free of most of Scorsese's on-screen depictions of violence and vice, Innocence catches you off guard. But Scorsese one claimed Age of Innocence to be "the most violent" film he ever made. In an interview with Roger Ebert, Scorsese said:
"What has always stuck in my head is the brutality under the manners. People hide what they mean under the surface of language. In the subculture I was around when I grew up in Little Italy, when somebody was killed, there was a finality to it. It was usually done by the hands of a friend. And in a funny way, it was almost like ritualistic slaughter, a sacrifice. But New York society in the 1870s didn't have that. It was so cold-blooded. I don't know which is preferable. I grew up thinking in one way, but in my own private life the past 10 years, I've started to appreciate the ability to say a little in certain emotional situations and mean a lot."
Scorsese's film, set in 1870s New York, concerns Newland Archer (Daniel Day-Lewis). Archer is engage to marry the sweet, somewhat boring May (Winona Ryder). Then May's cousin comes to town. The cousin, Ellen Olenska, is everything May is not: blunt, passionate, often shocking, and, of course, played by Michelle Pfeiffer. What follows is a battle to tamp down passion, as Archer lusts after Ellen without making things fully physical.
Filled with lush cinematography courtesy of Michael Ballhaus, jaw-dropping production design via Dante Ferretti, and masterful performances from Day-Lewis, Pfeiffer and Ryder, The Age of Innocence is one of Martin Scorsese's very best films. It's a sumptuous visual and emotional feast.
Special Features To Note:
The must-have Age of Innocence Blu-ray release from the Criterion Collection features interviews with Martin Scorsese, co-screenwriter Jay Cocks, production designer Dante Ferretti, and costume designer Gabriella Pescucci.
Scorsese spend a good part of his interview comparing the film to other classic movies, like Luchino Visconti's The Leopard and Senso and William Wyler's The Heiress.
The director also says that before he made the film, he became aware of the power of passivity; the power of not saying what was wrong: "For me, it's really about the power of what you think you know, and what you think you're doing, and the reality of how people perceive you."
Scorsese also reveals he had his actors listen to recordings of Franklin Roosevelt and Alice Roosevelt and also Walt Whitman to learn the correct way to speak. He also defends his use of narration, saying he likes it because it adds "tone and atmosphere."
In Jay Cocks interview, Cocks says he and Scorsese wrote the movie in 17 days. The two had already been doing research for the film that would eventually become Gangs of New York, and they drew on that for Age of Innocence.
The interviews with Dante Ferretti and Gabriella Pescucci go into the overall design of the film, from Ferretti's production design to Pesucci's costumes. "If the film is set in the 1800s, I automatically become an architect of that period," Ferretti says. Pescucci says she begins her research by looking at paintings. For Age of Innocence, she referenced the paintings of James Tissot.
Special Features Include:
New, restored 4k digital transfer, approved by director Martin Scorsese, with 5.1 surround DTS-HD Master Audio soundtrack

New interviews with Scorsese, coscreenwriter Jay Cocks, production designer Dante Ferretti, and costume designer Gabriella Pescucci

Innocence and Experience, a 1993 documentary on the making of the film

Trailer

PLUS: An essay by film critic Geoffrey O'Brien
The post New Blu-ray Releases: 'Justice League', 'Call Me By Your Name', 'I, Tonya,' 'The Age of Innocence' and More appeared first on /Film.
Article by [author-name] (c) /Film - Read full story here.